Presidential Volunteer Service Award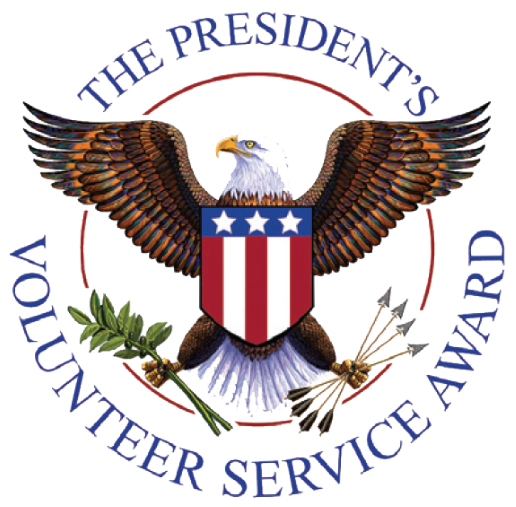 As a Girl Scout volunteer, we want to show our appreciation and honor you for your time and talents as a Girl Scout volunteer.  We know you spend countless hours striving to share the Girl Scout mission with girls and families in our council. Earning the Presidential Volunteer Service Award is a unique way to set yourself apart from your peers, take your volunteerism to the next level and inspire girls to take action.  Girl Scouts of Northern Indiana-Michiana is a Certified Organization and it would be our privilege to present you with a pin and certificate when your hours are completed and verified.
The Presidential Volunteer Service Award recognizes United States citizens and lawfully admitted, permanent residents of the United States who have achieved the required number of hours of service over a 12 month time period.
By performing eligible service, unpaid acts of volunteer service benefiting others, there are various levels that you can achieve a PVSA. Eligible hours are those that are volunteered through being a Girl Scout volunteer.  Hours for other organizations cannot be verified by GSNI-M. Eligible hours do not include donating funds or serving only family members.
To qualify for the PVSA, GSNI-M asks that you begin logging your volunteer hours at the start of the new Girl Scout year, October 1st and hours must be completed by September 30th of the following year, unless you are pursuing the Lifetime Achievement Award.  Turn in your hours to GSNI-M when you reach your goal or at the end of your 12 consecutive months no later than October 15th, whichever comes first. The Lifetime Achievement Award can be submitted whenever you have acquired the 4,000 hours.
If you have additional questions please email us at frontdesk@gsnim.org.
| | | | | |
| --- | --- | --- | --- | --- |
| Age Group | Bronze | Silver | Gold | Lifetime Achievement Award |
| Young Adults (16-25) | 100-174 hours | 175-249 hours | 250+ hours | 4,000+ hours |
| Adults (26+) | 100-249 hours | 250-499 hours | 500+ hours | 4,000+ hours |
Please remember to include your first and last name, phone number, e-mail, troop number, service unit number, award year, age group and your total number of hours on the PVSA hours log sheet. Submit you PVSA hours log sheet to frontdesk@gsnim.org to have your pin and certificate ordered.  We will reach out to you when we receive your award. Awards must be picked up in person from one of our offices and will not be mailed.