Adult Recognition & Annual Meeting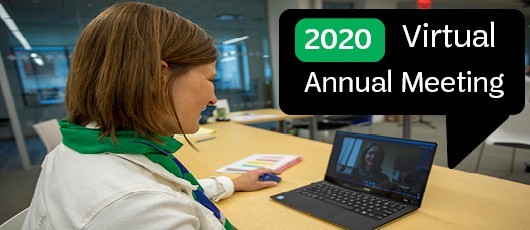 Out of an abundance of caution and for the safety of our members and staff Girl Scouts of Northern Indiana Michiana will hold only the 2020 Annual Meeting  virtually on Saturday, May 2, 2020. Adult Recognitions will be awarded to GSNI-M volunteers at a later time. More information will follow.

Members will vote on issues of importance to our council, elect members to the Board of Directors and National Delegates and learn about what is happening across the council. Registration opens Thursday, April 2.
Saturday, May 2, 2020 11am EDT Business Meeting, Bylaws Change Vote, Elections.
   Summary of change to the GSNI-M Bylaws
    Article IV Section 2A: Section 2. Term of Office
    A. The officers shall be elected by ballot in accordance with Article VI     of these bylaws for a term of three (3) years or until their successors     are elected and assume office. [removing the following: If there is only     a single candidate for office, the vote may be taken by voice or other     means.]
Reason for change: clarity
All GSNI-M registered Girl Scouts may attend. Members must register for the event to receive the virtual meeting connect information.
Girl Scouts ages 14 and older are eligible to vote. You must pre-register by Friday, April 24 to vote. There is NO FEE if registered online by April 24, 2020. A late fee of $5 will be assessed if registration is received after April 24, 2020. Registrations received prior to April 24 will receive the online voting information.
If you are unable to register online, please contact the Answer Center at 800.283.4812 and choose option 2 or email frontdesk@gsnim.org.
Documents for the meeting are available below: